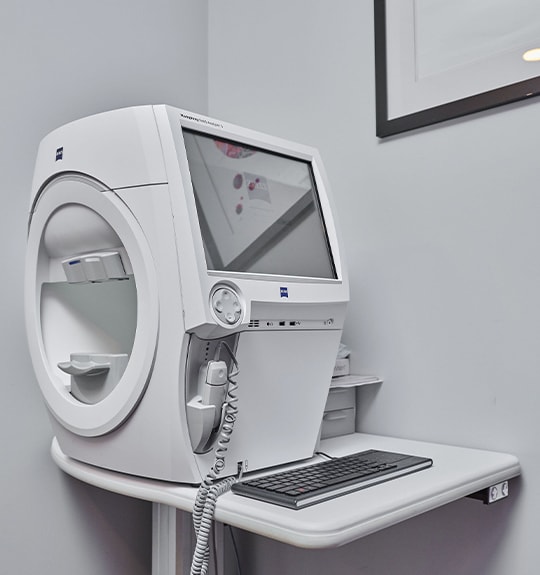 Leading-Edge Eye Care Brought to You By Our Advanced Technology
Our team is committed to providing you with quality eye care you can trust. To help us ensure we are helping your eyes see, feel, and work their best, we've employed the use of advanced optometric technology that takes your eye care experience to the next level.
Whether you are looking for the perfect prescription for your eyeglasses, wish to detect the early signs of eye disease, or need help training your visual skills, we've got the right tool for the job.
Discover how we can help your vision achieve its potential. Please, book an appointment with our team today.
The Tools of the Trade
Digital Retinal Photography
Digital retinal photography allows our team to look at and take highly detailed photos of your retina, including the macula, the optic disc, and blood vessels. This tool is instrumental for detecting early signs of:
In some cases, we may have to use eye drops to dilate your pupils so we can get a clear view of your retina. These eye drops may cause your vision to blur for a period of time, but we will let you know if we plan to do this testing before the exam, giving you time to arrange a ride home after your appointment.
Auto-Refraction / Autokeratometry
Auto-refraction/autokeratometry is a specialized computer we use to automatically determine your refractive prescription and the curvature of your eyes. We may use this device to help find the right contact lens for you if you have hard-to-fit eyes, determine your candidacy for laser eye surgery, or diagnose eye conditions like keratoconus.
The test only takes a couple of seconds to perform and doesn't require pupil dilation.
Corneal Topography
Corneal topography helps our team develop a highly detailed map of your cornea. This tool can also help us determine if you have any conditions that could affect how comfortable contact lenses are to wear, like keratoconus.
Humphrey Visual Field Analyzer
The Humphrey visual field analyzer is an advanced computerized tool we use to determine your visual field quality. Diseases like glaucoma can develop slowly, eventually affecting the quality of your peripheral vision, but this device can help us determine if your peripheral vision has been damaged or is losing its quality.
Automated Lensometry
Automated lensometry helps our team create and fit your prescription lenses into your chosen frames, ensuring you look, feel, and see your best when you get your new pair of glasses.
Meibography
Meibography is an imaging technology that helps our team examine your meibomian glands. Your meibomian glands play a vital role in your eye comfort, as they produce the oils your tear film needs to keep it from evaporating. Meibography can help detect blockages in meibomian glands, allowing us to correctly diagnose your dry eye symptoms and determine which treatment would be best for you.
Sanet Vision Integrator (SVI)
Our Location in Stoney Creek
Where to Find Us?

You can find Perception Eyecare in the Southmount Health Care Centre in the Fortinos Plaza.
Where To Park?

We're located in a standalone health centre with ample free parking on 3 sides of the building.
Our Address
35 Upper Centennial Parkway,
Unit 1B
Stoney Creek
,
ON
L8J 3W2